Contemporary Jewellery with an Ancient Aesthetic
My work is characterised by the simplest forms – trying always to achieve perfect proportions – allowing the beautiful colours of the gold and gemstones to come to the fore. I am influenced by the art and artefacts of ancient Mediterranean cultures, and love visiting the archaeological collections in Rome, Agrigento, Heraklion and Cairo.
I use traditional hand tools and techniques; piercing, drilling, planishing and forging high carat gold, embellished with old cut gemstones, cabochons and beads. The stones are meticulously selected for colour and shape – the flaws and inclusions add to their unique properties. Every piece is handmade by me in my Sussex workshop – finished using very fine emery papers resulting in a lustrous unpolished surface, with the edges brightly burnished.
The work is continually evolving – sometimes as a result of a commission that requires a new approach. I hope each piece will delight the wearer and become part of their heritage.
In September 2021 I participated in a talk at Goldsmiths' Fair entitled "Reimagining Ancient Jewellery for the Modern Collector".  Extracts from the talk are available here.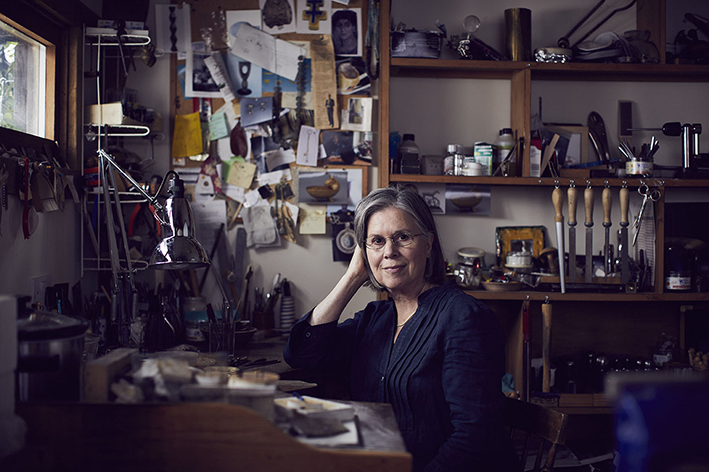 Goldsmiths' Craftsmanship and Design Awards 2004
– Commended Fine Jewellery
Goldsmiths' Craftsmanship and Design Awards 2021 Silver Award (2D) Designer Smallworkers
As well as using recycled precious metals I am delighted to be using ethically mined sapphires supplied by The Sapphire Place, and to support the artisanal miners in Sri Lanka who employ local people and demonstrate responsible, fully traceable, sustainable and ethical business practices.